Credit: Andrew Imanaka
Let it never be said that La Luz are disinclined to hard work. The tour-happy four-piece returns to the road today with a show in Claremont, California that kicks off a three-month North American tour which includes appearances at the Levitation, Sasquatch!, and Pickathon music festivals. Additionally, Hardly Art is pleased to announce that La Luz's breakthrough debut EP Damp Face is now available on vinyl for the first time ever. This 10" release an be purchased exclusively through our webstore, in record shops, or at the band's merch table on any given stop of their ambitious Spring/Summer tour.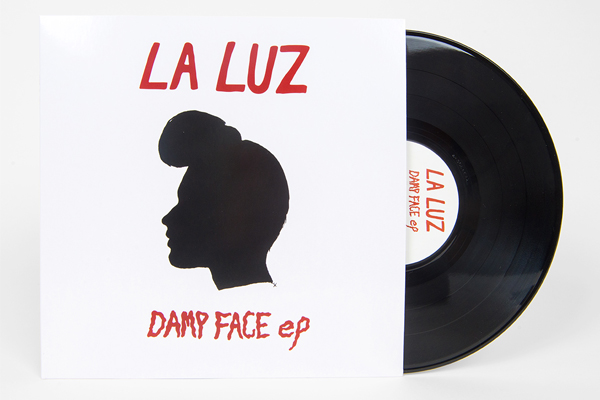 See below (or the tour page) for a full list of upcoming tour dates.
04.22.16 - Claremont, CA - Kohoutek Music and Arts Festival
04.27.16 - Tucson, AZ - Club Congress *
04.29.16 - Austin, TX - Levitation Fest at Carson Creek Ranch !
04.30.16 - San Marcos, TX - Texas State University's MR Fest
05.01.16 - New Orleans, LA - Siberia *
05.03.16 - Tallahassee, FL - Warhorse Whiskey *
05.04.16 - Miami, FL - Gramps Bar *
05.05.16 - Jacksonville, FL - Burro Bar *
05.06.16 - Atlanta, GA - Aisle 5 *
05.07.16 - Nashville, TN - The High Watt *
05.09.16 - Raleigh, NC - Kings Barcade @
05.10.16 - Baltimore, MD - The WindUp Space @
05.11.16 - Cambridge, MA - Middle East Upstairs @
05.12.16 - Brooklyn, NY - Market Hotel @
05.17.16 - Toronto, ON - Horseshoe Tavern @
05.18.16 - Detroit, MI - Marble Bar @
05.20.16 - Chicago, IL - Subterranean %
05.21.16 - Minneapolis, MN - First Avenue and 7th Street Entry %
05.22.16 - Fargo, MD - The Aquarium (Dempsey's Upstairs) %
05.24.16 - Missoula, MT - Stage 112 %
05.25.16 - Calgary, AB - Palomino Social Club %
05.27.16 - Vancouver, BC - Biltmore Cabaret %
05.28.16 - George, WA - Sasquatch! Music Festival
05.31.16 - Pendleton, OR - Great Pacific %
06.01.16 - Portland, OR - Mississippi Studios %
06.02.16 - Arcata, CA - Richard's Goat %
06.04.16 - Santa Rosa, CA - Arlene Francis Center %
06.05.16 - Los Angeles, CA - Bootleg Theater %
08.05-07.16 - Happy Valley, OR - Pickathon $

* - w/ Massenger
@ - w/ Las Rosas
% - w/ Sick Sad World
! - w/ Animal Collective, Caribou, Slowdive, Ty Segall, more
$ - w/ Protomartyr, Julia Holter, Ty Segall, more
la_luz
new_release
tour