Credit: Photo credit: Michael Wolever
My Idea, the new pop duo comprised of musicians Nate Amos and Lily Konigsberg, are releasing That's My Idea, their debut five-song effort worldwide today on Hardly Art.  The EP features their two-in-one official visual for singles "Stay Away Still" and "That's My Idea," along with "I Can't Dance." Watch the video and stream the EP here.
 
My Idea live performance schedule for 2021 includes two Brooklyn, New York shows: Sunday, August 22nd at The Broadway with Godcaster and Professor Caveman and Thursday, September 16th at Music Hall of Williamsburg supporting Wild Pink and The Ratboys. More live shows will be announced soon.

What People Are Saying About My Idea:
"Wonderfully alluring." ["Stay Away Still" / "That's My Idea."] - Stereogum
 
"Underscored by a deadpan monotone ("Read a book… that's really fucking weird") that counters every sentiment of singer Lily Konigsberg's with an eyerolling comeback, 'Stay Away Still' introduces My Idea as a band unafraid to have fun with the form. Hooked around a lo-fi, three chord swagger, there's an easy, fuzzy charm to its bounce, but there's also oodles of personality on show here to elevate the track above just another US indie export." ["Stay Away Still"] -  DIY
 
"The couplet kicks off with the bouncy 'Stay Away Still,' a song the retains the joyful juvenescence of their best work, and even heightens it to a degree. Both Konigsberg and Amos have been creating songs practically since they could talk, and that wonderment comes through in the song's sunshine swagger, full of various voices and laughter...'That's My Idea' gets a little overcast and emotional, but not without sacrificing the joyful atmosphere of two talented musicians jamming together, working through their worries in tight unison. A song of passive confrontation, it finds Konigsberg whisper-singing "that's my idea" repeatedly until its threaded through your cortex irreversibly." ["Stay Away Still" + "That's My Idea."] - Beats Per Minute

"Together the music they make is artfully delightful indie pop that you can only fall for as soon as you hear it" - Closed Captioned
 
"The debut single from prolific Brooklyn musicians Lily Konigsberg of Palberta and Nate Amos of Water From Your Eyes captures the juxtaposition of returning to a new life transitioning out of pandemic isolation. Konigsberg's feathery lyrics pack a punch describing the whirl of thoughts surrounding being judged out in public again while Amos' guitar brings a lively playfulness to the track." ["Stay Away Still"] - Ears to Feed
 
"'Stay Away Still' delivers darkly tongue-in-cheek lines like "depression's a conspiracy theory" over jittery rhythms, twitchy guitars, while Lily Konigsberg's sardonic vocal hooks push and pull. It's infectious art-pop that winds up like a spinning top, oscillating joyously in the rough proximity of the dexterous songwriting of Breeders or the inner dialogues of The Mouldy Peaches. While the drum machine clicks and hushed delivery of 'That's My Idea' has an alt-country flecked beguiling more meditative charm." ["Stay Away Still" +  "That's My Idea" / Video of the Week] - God Is In The TV
 
"Spunky and fun" ["Stay Away Still"] - NPR Music
 
"'Stay Away Still' builds gradually, with new layers being introduced throughout. Finally, it swells to a big bouncy climax that comes to an abrupt stop leaving you eager for more and grateful that this song has dropped as part of My Idea's special two-in-one release."  ["Stay Away Still" / "Track of the Day"] - Get In Her Ears
 
About My Idea:
For My Idea, music has always been the plan. "I wrote a song in a pool in Florida when I was two," explains Konigsberg, humming the melody over video chat, and Amos nods in agreement, "When I was four I wrote one called "like a cat" about how my girlfriend sleeps at the foot of the bed like a cat." Though they've both been pulled toward songwriting since a young age, it's a miracle they ever ended up doing it together.
 
While Konigsberg is a Brooklyn lifer, Amos' family bounced around from Colorado to Pennsylvania and eventually Vermont. At some point, he up and left to Chicago, looking for a change of scenery. "I was just bored, I still am," he says of the decision, which might also explain the immense volume of recording projects (roughly 250) that he worked on during his four year stint there. Eventually he ended up in New York to start the avant pop band Water From Your Eyes, and before long, had crossed paths with Lily.
 
After years performing with her experimental punk group Palberta, Konigsberg was beginning to carve out a solo career, and thought Amos could be a potential producer. What began as a trial session for her debut album quickly evolved into a songwriting competition, with the two churning out dozens of tracks over the Fall of 2020. "Lily became the lyric supervisor and I became the music supervisor," explains Amos, "the roles emerged." With such undeniable chemistry, it was only logical that they form a band, the hilarious and perfectly named My Idea.
 
On their debut EP, the duo pack their immense personalities into bite sized pop experiments. "Stay Away Still" delivers tongue-in-cheek lines like "depression's a conspiracy theory" over tightly wound indie rock, while "Birthday" immediately pivots into icy glitchiness, pitting pulsing drum & bass against glossy vocals. There's an economy to their songwriting, every production choice and lyric pulling you into their world without ever becoming overwhelming. Lyrics like "God is great and music's better" feel like a revelation on "I Can't Dance", and the piano arpeggios on "Keep Lying To Me" build the tension to a boiling point before erupting into autotuned euphoria.
 
Their union has been described by friends as "watching two planets collide", and their 13-minute debut feels like watching a universe only begin to expand.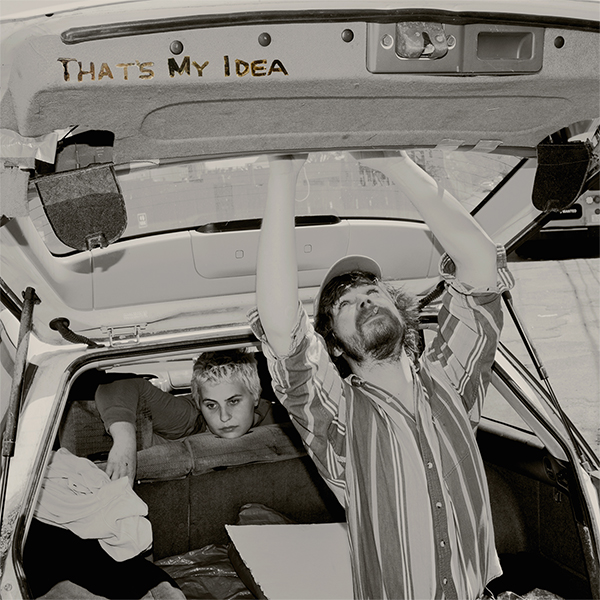 My Idea
That's My Idea
 
Tracklisting:
1. I Can't Dance
2. Birthday
3. Keep Lying To Me
4. Stay Away Still
5. That's My Idea

hardlyart
hardly_art
my_idea
stay_away_still
thats_my_idea